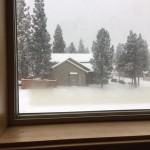 Looking to sell your home this year? You surely don't want any issues to arise with a home inspection or appraisal, right? Here's a list of items which are commonly called out by inspectors and/or appraisers, yet often overlooked by sellers as they prepare their home for sale. All of these items can cause costly problems during your escrow period and all are potentially easy and inexpensive fixes if you are proactive and plan ahead.
Service your HVAC – When was the last time your furnace or a/c was serviced? When did you last replace your filter? Most HVAC units have a tag or log where a repairman can use their Sharpie to write down the dates of service. Your buyer's home inspector (and your buyer) will be happy to see a service date within the past 6 months
Window Seals – Do some of your windows look foggy or etched? Occasionally, window seals will fail and moisture is allowed to condense between the panes of glass. This condition will get worse with time as the "fogginess" gets more opaque and spreads out. Check for any warranties you have on your existing windows. If the windows were installed more than 10 to 20 years ago, you might be out of luck and the only recourse could be new windows.
Smoke and Carbon Monoxide Alarms – Even if your smoke alarm works just fine, if it is more than 10 years old, it needs to be replaced. Both smoke alarms and carbon monoxide alarms need to be placed in accordance with Oregon law. The State Fire Marshall's website, http://www.oregon.gov/osp/SFM/pages/index.aspx has information on the applicable rules regarding each.
Check your Gutters – Gutters are a wonderful addition to a house, even in drier Central Oregon. If you have gutters, make sure they are secure and cleaned out. If you do not have gutters, inspect the condition of the home's siding near the foundation where it is susceptible to moisture damage from rain water and snow melt draining off your roof and splashing upward. Older and unmaintained siding can act as a sponge soaking up the water and cause costly repair bills.
Drainage and Slope – Water that flows off your roof and from the neighboring terrain should have a place to go that is away from your home. Dirt should be sloped away from the home's foundation. If your property lies in a downhill portion of your neighborhood, check to make sure water is not collecting or pooling in your crawlspace.
Decks – Ensure deck railings are secure and baluster spacing is no more than 4 inches apart. Also ensure there is no wood to earth contact. Deck projects are a favorite of the weekend warrior and often not built to code.
Permit History – If your home has additions or conversions, have your permit history available for potential buyers and home appraisers. This information can usually be found at the City Permit Center or with the County. Without a final permit, you may not receive credit for your home's full square footage – which means the appraiser and lender may not think your home is worth as much money as you and your buyer have agreed upon.
Wood Stove Certification – If you are selling a home with a wood stove, you'll want to ensure the stove is an EPA certified wood stove or have it removed and destroyed prior to the sale. If you are uncertain about whether your stove is certified or not, try looking on the back of the unit for a silver EPA tag. If you are still unsure, call the retailer or dealer where the stove was purchased. The EPA also has a website with information, https://www.epa.gov/compliance/list-epa-certified-wood-stoves
Pet Doors – Everyone loves their pets but if you've cut a hole in your fire rated garage door for Fido, then you've probably also cut into your profits by about $300 to $600!
Septic Systems – If you live in a home with a septic system, then you're probably aware of the maintenance requirements for your specific septic system. There are several different types of systems used in Central Oregon and the cost of replacing a system can range to more than $25K. Avoid any deal killing discoveries by taking care of the system in advance of putting your home on the market. I recommend having your tank pumped and evaluated within 6 months prior to putting your home on the market. Keep all paperwork handy for the potential buyer.
In order to command top dollar on your home sale, planning ahead is crucial. Take care of these potential tripping points prior to showing and marketing your home. If savvy buyers don't pick these things out on their first visit through your home, they will get called out during the inspection period or appraisal process. See more information and tips on preparing your home for a successful sale on my blog article, Preseason Home Selling Tips.  As always, feel free to contact me with any questions regarding the home sale and purchase process.