Brookswood Boulevard leads you to the "other" westside. Quiet, quaint and perfectly located along the Deschutes River and a stones throw from the Old Mill and Downtown. Continue below for an easy to read graph showing quarterly prices since 2009 and detailed analysis of the housing numbers in this area. 
If you live within the boundaries of Brookswood Blvd, the Deschutes River and from Elkhorn Estates through River Rim, these stats are for you. Also included in the data is the portion of River Canyon Estates to the east of Brookswood.
The median single family home price for the first quarter of 2016 was $399,000 which is up 16% from Q1 in 2015! If you're thinking the first quarter is usually a little slower and lower than the second quarter, you're right. In 2015, Q1 to Q2 median prices rose 8.2%. 2013 and 2014 saw 13.8% and 13.2% respectively from Q1 to Q2. A couple of clues tell me we should see a similar increase when Q2 finishes this year. From April 1st to the time of writing this blog post, we've seen 13 sales with an average sales price to list price percentage of 100.20%. Yes, that means the average purchase price is above the listed price. Last year for the same duration we had the exact same amount of sales but a SP/LP of 98.05%. Mortgage rates are still historically low and buyers are being aggressive (but not 2006 aggressive) so I believe we'll see a similar median price increase in the Brookswood Corridor West as we did last year, around 8%….but hey, I don't have a crystal ball, just data and what I see in the field!
As always, if you need help evaluating your home or the market, That Furrow Crew at Fred Real Estate Group is happy to help!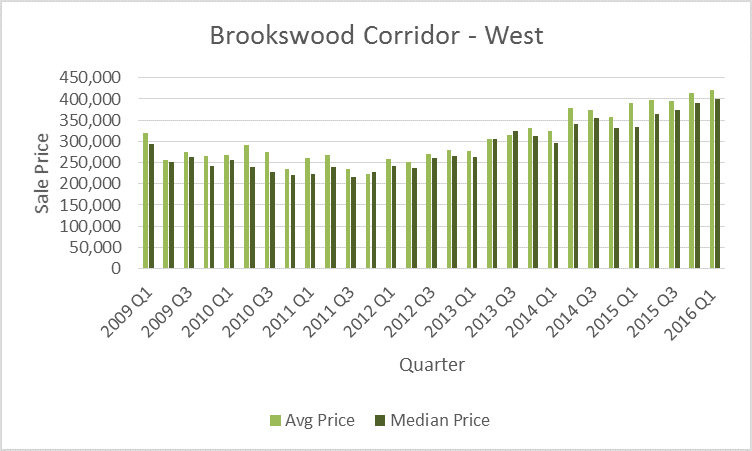 It's no wonder I put a particular focus on tracking housing trends and stats in the Brookswood Corridor. In 2008 my family and I made the move to Bend. As I packed our Scottsdale, AZ home and put it on the market, my wife started her job in Bend and lived in a friend's guest room in River Rim. In the first quarter of 2009, we moved into a rental property on Hollygrape in River Canyon Estates. Since then we have been blessed with the ability to purchase a home in Quail Pine Estates. My kids went to Toddles, (seems like forever ago!) and now go to Pine Ridge Elementary. At some point today I'll probably be on the river trail. This is where we live work and play. Cheers!