What does Earth Advantage certification, Wanderlust Tours, Cornhole, local beers and over $120 in prizes have to do with OPEN HOUSE Weekend?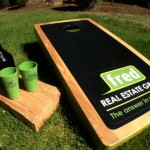 This weekend is Central Oregon's OPEN HOUSE Weekend!  To do my part, I'll be holding an Open House in SE Bend at 20066 Shady Pines, a super energy efficient Earth Advantage home.  As I'm not a fan of "boring," I'll have cornhole set up in the back yard and will be giving away a $120 gift certificate from Wanderlust Tours and several SilliPints!  Wanderlust will even be joining me on Sunday from 11-2.  They'll be pouring some local beer samples and talking about all the great things to do outdoors in Central Oregon.
Of course, I'll be talking about the great things indoors in this wonderful 4 bedroom home; ductless mini-split heat pump, solar water heater, blown-in insulation, the list goes on!  At $279,900, this home is offered at an incredible value.  Come check out the home and the fun from 11-2 on Saturday and Sunday this weekend, May 31st and June 1st!