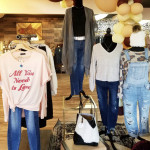 On a serendipitous day in September of 2015, I met a young woman who was walking around a property I was about to show to a client. I didn't know if she was another Realtor, the homeowner, or just a curious neighbor. A few minutes later I knew some of her story and an hour or two later I was writing an offer for her and her husband!
The serendipity in this was not in gaining a new client and winning in a multiple offer situation, the good fortune was in meeting such a wonderful and impressive young couple. Fast forward a few years and Nicole is starting her own business in a sleepy, but changing Downtown Redmond. Add another couple of years and Willow Wild is an integral part of Downtown Redmond's vibrant and charming culture. Nicole and her husband, Phil, have worked their tails off to create a business and life on their own terms, all while raising a young son. Like many, I love stories of the American Dream and entrepreneurial spirit and am passionate about small business success. It's a privilege to call Nicole and Phil friends, and I couldn't be happier for their success with Willow Wild!
If you haven't shopped at Willow Wild yet, I encourage you to check them out. Gentlemen, don't worry. Nicole and her staff can help you pick out something the ladies in your life will cherish. If you shop on Monday, you'll be taking part of Willow Wild's giving campaign. Every Monday through 2020, they are donating 20% of their sales to local nonprofits!
In Nicole's own words from her website, here is a quick description of her store, "So, ladies, here we are: strong, busy, multi-faced, empowered, women. We want to be on trend and polished and we need quick, wearable options that are affordable! We want gorgeous, feminine duds. We don't have hours to scour the web for the latest trends. We want quality, wearable options in one place, and we want it all on budget. Welcome, Willow Wild! Here's our mission: provide gorgeous, quality, wearable, options for women."
Follow Willow Wild on Facebook or Instagram, or better yet, just go in and say Hi!