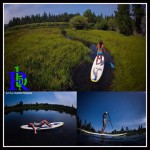 Circa 1992, I sat on my windsurf board in the dead calm waters of the northern Sea of Cortez.  Waiting for the winds to pick up with the afternoon heat, I'd grab a kayak paddle and cruise about the flat waters of Morua Estuary near Puerto Penansco.  Little did I know, if I just would've stood up, I'd of been on the front end of a sport that's blown to the top of the water sports industry!
A long way from Mexico, Central Oregon may be one of the best stand-up paddleboard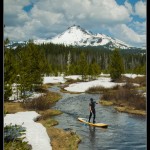 destinations in America.  Professional photographer and paddle boarding instructor, Paul Clark is someone who's been leading the charge in educating and inspiring visitors and Bendites to seek out the benefits of our beautiful region.  From people watching in the Old Mill District of Bend, to the wildlife viewing of the Cascade Lakes, to surfing the Deschutes, there's an adventure for any skill level.  Paul teaches clinics on several parts of the Deschutes River and can also arrange multi day clinics for those who would like a more sustained and adventurous wilderness experience.  With a background in outdoor education and solo expedition, he's just the guy to turn to if you are interested in trying out this growing sport.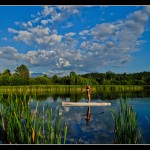 Stand up paddle boarding, (SUP) is truly a sport for the masses.  Mom, dad, great granny and even Fido can get on board and go.  A SUP day can be peaceful and relaxing or a competitive race.  Yet as Paul has demonstrated the SUP can also be a vital tool in expanding or enhancing a backcountry adventure.  Recently, Paul completed a 4 day, 140 mile solo trip down the John Day River in Oregon and is in the planning stages of a multi day trip to Lake Tahoe and the Desolation Wilderness.
Of course, you probably want to know where to get in the water near Bend, Oregon.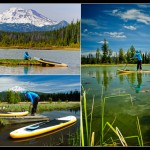 Paul's top 5 recommendations are: the Duck Pond (a somewhat hidden gem on the Deschutes), Hosmer Lake, Sparks Lake, Little Lava Lake and the Old Mill District.  To hear some more information about paddle boarding in Central Oregon, Paul will be doing a free presentation at REI in Bend on Wednesday, July 17th from 6 to 7:30 pm.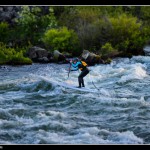 For more of Paul Clark's images and inspiration, visit his website www.BlackandRedPhotography.com