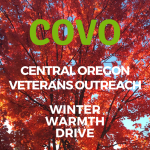 Please help us support Central Oregon Veterans Outreach, Inc (COVO) as we collect winter coats, jackets and men's jeans. (Jean sizes 30 to 36) We have our donation wagon set up at Fred Real Estate Group until Monday, November 26th. If you have items you'd like to donate, but cannot make it to our office, just message us and we'll make pick ups before the 26th.
While this is primarily a coat drive, there are several current and urgent needs which we'll try to help fill:
Coats
Jackets
Men's jeans waist size 30 to 36
Sleeping bags
Tents
Canned meats or chili
COVO's primary focus has been on getting homeless, or at-risk Veterans, off the streets, finding them jobs, assisting them with their VA pensions/compensation and removing barriers that put them in the position of being homeless. Their programs have extended to support Veterans and their families, as well non-Veteran families at risk. Please visit their website for more info on this great organization.