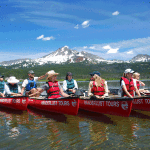 One of my first memories of living in Bend was taking a Brews and Views canoe trip with Wanderlust Tours. Even as a newbie to Bend in 2008, I was fully aware of the beauty of the Central Oregon landscape and its tasty brewery offerings. But on this particular paddle trip through one of our high elevation mountain lakes, I was introduced to a more profound understanding of our environment and the natural history of it. Best of all, I was given locally brewed beer on a breathtaking and secluded beach!
The Brews & Views canoe trip has stood out to me as an incredibly fun Wanderlust adventure, though they have a selection of amazing trips to quench just about any thirst for wild spaces and entertainment. Caving, snowshoe, photography, volcanoes, bonfires and stargazing are all on the menu. When you are on any of these tours, you will be in the hands of the finest naturalist guides in the country. Wanderlust is dedicated to providing the best outdoor experience possible and this is shown by their commitment to employ and retain a staff of top notch, passionate, experienced and fun loving guides.
Wanderlust tours is a local family owned business that cares for their community and environment. When not out providing exceptional experiences for their clients, you can find them cleaning up high use areas of our wilderness and trails, helping to eliminate ladder fuels in our surrounding forest, and supporting other local businesses. They are true community heroes and we're proud to spotlight their wonderful presence here in Central Oregon!
To find out more information about their offerings and to satisfy your wanderlust, check out their website, https://www.wanderlusttours.com/