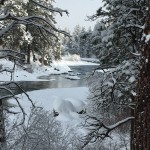 Record setting winter weather in the PacNW has caught the attention of the region and nation. Roof collapses, school and business closures, and lots of ski days. But what impact has the epic snow dump had on the real estate market and what does it mean for sellers and buyers in Central Oregon?
Turning back to the MLS data from last December of 2015 and January of 2016, we had 330 single family residential properties accept offers and move into a pending status in Bend. This winter, for December and January, (note, I'm writing this on Jan 31st and the day is not over yet!) we have 350 single family residential properties which have gone pending. So even with all the weather, we're seeing an almost 6% increase in the amount of pending sales from last year at this time. That's a lot of determined buyers in the snow!
Now let's look at MLS data for how many new listings actually hit the market last December and January. We had 361 properties listed last year in that time frame compared to only 259 this year; that's a drop of over 28% – yowza! In short, we have more buyers with more determination this winter and we have a huge reduction in the amount of new properties on the market. The reduction is a direct result of the weather. Many home sellers are waiting for the snow to melt and waiting for contractors to repair snow related damages to their homes before they put their homes up for sale.
What should we expect in the next few months? Last year in February and March, (within the same single family residential class in Bend) we saw 593 new active listings and 547 properties move into a pending status. Using history as a predictor, we can expect an incredible flood of properties hitting the market as our weather thaws in the next month or so.
To sellers, I believe you're better off getting on the market sooner rather than later. Get in while the inventory is lowest because the buyers are here and they're hungry.
To buyers, if you're not in love with what you see now, be patient. The flood gates will soon be opening with many more options.
As always, if you have any questions regarding our local real estate market, trends, or even your own home's value, feel free to contact me. I'm always happy to be your real estate resource and look forward to offering buyers and sellers outstanding service and results.
Bend, Oregon Snowmageddon 2017
| | | | |
| --- | --- | --- | --- |
| | Dec 15 – Jan 16 | Dec 16 – Jan 17 | Change |
| New Pending | 330 | 350 | +5.7% |
| New Active | 361 | 259 | -28.25% |