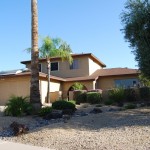 Phoenix Business Journal by Kristena Hansen, Reporter
Date: Wednesday, June 27, 2012, 11:33am MST
Phoenix-area home prices have been surging in the past year, but a report released today by Arizona State University    indicates the rapid rebound may be short lived.
Median single-family home prices in May for Maricopa and Pinal counties were up 32.4 percent from a year earlier. Median prices of townhouses and condos last month spiked 37.3 percent year-over-year, the report said.
However, the housing market is unlikely to sustain such a dramatic trend, and growth is expected to taper off before the end of the year, said Michael Orr, the report's author.
"This rate can't be sustained long term, and the most likely time for prices to stabilize is during the hot summer months of June through September," Orr said.
The notable price gains have been primarily induced by an equally notable drop in inventory, causing a decline in home sales and generating an increasingly competitive buyer's market, Orr said.
Both counties experienced half the inventory last month than they did a year earlier, while the number of single-family home sales fell 5.8 percent during the same period.
"Most houses below $250,000 priced realistically are attracting large numbers of offers in a short time, and many exceed the asking price," Orr said. "We recently saw a Chandler home get 84 offers and a Glendale home receive 95. The Glendale house closed within four weeks for 17 percent above asking price. Needless to say, this is not something we would see in a normal market."
Investors, especially those with cash in hand, are usually the ones to land those bids, thus forcing potential buyers in the market for a new residence to look to new homes as an alternative. For example, Maricopa and Pinal counties saw a 57 percent jump in new-home sales last month compared with last year.
"Contractors are trying to keep up with the new construction demand by supplementing a small skilled labor pool," Orr said. "They're attempting to lure away competitors' employees with higher pay and to attract back foremen who've gone on to other housing markets or industries."
Maricopa and Pinal counties saw an 18 percent hike in single-family home and condominium foreclosures in May, according to the report by ASU's W. P. Carey School of Business. Orr said the jump is no need for serious concern as of yet.
"Completed foreclosures were still down 52 percent year-over-year in May," Orr said. "Since the signing of a legal agreement between the states and five of the nation's largest lenders, we have seen a slight uptick in the rate of foreclosure notices, but we are still a long way below the peak levels of March 2009."
Home and condo values in Maricopa and Pinal counties, on the other hand, continued climbing in May, a persistent trend the markets have seen since reaching a low point last September, the report said.