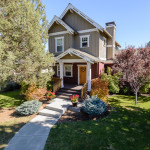 Listing and selling your home can seem like a very intimidating and daunting task when you're unsure of the process and the cost involved. For this reason, we thought it would be helpful to explain the process and chart the course, which will empower you with knowledge and confidence from start to SOLD. In Step 3 we discuss the showing process; everything including scheduling, safety, etiquette and feedback.
Step 3 – Showings
Showings are typically scheduled by your listing agent. As a seller, you'll want to discuss with your Realtor a minimum time frame for notice before showings. We like to have showings available with at least a two hour notice, but understand this may be difficult in some situations. If you're selling a rental property, tenant occupied homes require a minimum of 24 hour notice. In most cases, you'll receive at least several hours or even a few days notice, though agents often get calls from clients wanting to see a home ASAP. Rest assured, your listing agent will do the best they can at pre-screening the prospective buyers before setting the appointment. Depending on the agreed communication, usually a call or text, your agent will contact you to confirm the showing time works for your household.
A very important step in having your home ready for showing, is making sure your belongings are safe and secure. Realtors will do their best in vetting out their clients and in keeping an eye on all parties while showing your home. However, there is certainly risk involved and therefore any and all valuables should be stored safely away from eyes and hands, or completely removed from the home. Buyers will likely open closets and cabinets as they walk through. We suggest all valuables be stored in safes or locking cabinets and the same goes for medications. Taking the proper precautions will alleviate much of the stress involved in having your home shown. As mentioned in the previous article, Step 2 – Sign, Lockbox and Photography, we mentioned how the electronic lockboxes work. Whenever a buyer's agent opens the lockbox to remove a key, your listing agent will receive an email with a digital stamp showing the agent who accessed the lockbox and the time it was accessed, so you can also be assured there will be no unknown showings.
Once a buyer's agent enters your home, they will head straight for the light switches and blinds if you have not prepared the home for them. We strongly suggest our sellers always leave the lights on, blinds open and light music playing for all showings. For more info on preparing for showings, see our posts, Preparing a House for Listing Photos and Selling Season has Begun. Common etiquette for showings dictates that agents leave a home as they found it. So you can expect your lights to be on when you come home as well, unless they've been given instructions to turn them off when leaving. All exterior doors should absolutely be locked up by the showing Realtor. They should also always leave a business card on the counter or other conspicuous place so that you know they have been there. If you have a "no shoes" household, then arrange for a sign and bootie basket to be placed in your entryway by your listing agent. We prefer to always have booties available regardless. If possible, it's a great idea to give the prospective buyers at least an additional 30 minutes after the scheduled appointment ends. Most buyers will be touring several homes and delays can easily happen. Hopefully the buyer's agent will keep your Realtor updated if they're running late but experience shows it does not always happen.
Finally, you'll certainly want to hear some feedback regarding how the showing went with the prospective buyers. The communication plan you've established with your Realtor will dictate how frequently you can expect feedback. We always personally solicit feedback from the showing agents within 24 hours and also use an electronic system of acquiring feedback. The program will piggy back on top of the electronic key box to send off a feedback questionnaire to the showing agent when they access the home. When the showing agent responds via this system, you will directly receive the unfiltered response. We feel this system is a great tool in ensuring we get as much honest feedback as possible from all parties who enter your home. The important thing is to discuss with your agent how the feedback will be retrieved and communicated to you so you're not left wondering after the showing.
Please contact us with any questions you may have regarding the showing phase of listing your home. Next time, in Step 4, we'll discuss the offer process and negotiations!