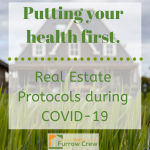 As our worlds continue to get shaken up by the COVID-19 pandemic, we want to start out by by saying that our thoughts and love go out to all of you!  This can be such a challenging time and we're sending well wishes to everyone battling the pandemic at home and on the front lines.
When we looked to the future of Real Estate, as we tend to do, rarely do we think about large outside influences like a global pandemic.  But now that we're here, we wanted to share our safety protocols with you and let you know what That Furrow Crew is doing to keep our clients, and our industry safe during this challenging time.
The Real Estate market continues on and we're taking every precaution that we can! Yes, we did see a slowing of our Central Oregon market, but with a low inventory of available homes, this "slowing" does not mean a halt. We remain in a very active market and we will maintain a standard protocol to ensure our clients' safety as best we can.
Here are questions that we ask showing agents before they tour one of our listed homes:
Are you or anyone in your household sick or experiencing any symptoms associated with COVID-19?
Have your client(s) or anyone in their household been sick or experiencing any symptoms associated with COVID-19?
Have you, your clients, or anyone in your immediate families recently traveled to/from any high risk areas?
Are your buyers pre-approved?
Here are important steps that we ask our Buyers to take before touring a home:
We require that Buyers watch all walk through videos, Matterport 3-D imaging and have driven by the property prior to the showing.
We allow showings only for buyers with lender prequalification letter or verification of funds (VOF).
We ask that showings be limited to immediate buyers; no children or family members, as much as possible.
The use of hand sanitizer before and after showings is required, and we ask that people do not touch any unnecessary surfaces. We wipe all touched surfaces with a bleach wipe before leaving.
We ask that people wear gloves if available, wear masks, and maintain social distancing.
We provide bleach wipes and hand sanitizer at the showings.
Here are steps that we ask our Sellers to take before Buyers tour an occupied home:
The home must be clean and all surfaces must be sanitized by seller – especially light switches, door knobs, counter tops.
We ask that sellers leave all lights on and interior doors open, and to leave all blinds and curtains open.
We require sellers to vacate the home during the time of showing.
We ask that sellers leave provided bleach wipes and hand sanitizer near the front door.
We require an emailed written agreement allowing physical showings each day showings occur.
Here are some additional steps that That Furrow Crew is taking to help our clients Buy and Sell safely:
All current listings include a full walk through video and/or Matterport 3-D imaging, which helps Buyers virtually tour the house from their computers.
We can also accommodate virtual showings in which the listing agent or seller walks buyer(s) through home and property using a cell phone camera via Zoom, FaceTime, Webex or other video conference platform. Virtual showings may allow all parties, including buyers, sellers, and both representing agents on the call.
Our agents and any showing agents will not leave a business card at the home after the showing. Instead, we and they, will text or call to notify the listing agent that the showing is done. We will also ask buyer agents to provide feedback on the showing prior to the end of the day – and we in turn will do so for any listings we tour with our buyer clients.
We recommend that our sellers consider having a home inspector do a partial inspection prior to the property hitting the market. Partial inspections include the roof, attic space, crawl space, HVAC system and electrical panels. In our current COVID climate, regulations are changing rapidly and often. We do not anticipate home inspections being deemed a non-essential service, but for the cost, this seems to be a prudent investment in making sure home sellers are not hit with a wrench in case inspections do get halted or delayed.
If you have questions or concerns about the buying or selling process, we would love to offer you our thoughts and experiences. We are here and committed to giving you the service, experience and safety you deserve in the residential real estate market.