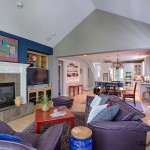 "You had me at hello."  We've all heard this quote from the movie Jerry Maguire and we all know how important first impressions are.  When selling a home, creating a great first impression is imperative and can have a substantial effect on your bottom line. Numerous studies have shown us an overwhelming majority of home buyers start their search online where photos represent your home's first impression to prospective buyers.  Make a bad impression and the prospective buyer scrolls to the next listing without clicking to see the info about yours.  Make a good impression and you are likely to start scheduling showings!  You're also likely to sell your home for more money.  According to a Redfin study in 2010, listings with professionally shot photographs sold for an average of $934 more for homes in the $200K range, and $18,819 more for homes in the $800K range!  Will your home make it past, "Hello?"
The following information is from Shannon Sands, a Bend, Oregon based professional real estate photographer and owner of Tosnflies Photography.  Shannon explains how to prepare your home for a photographer so the photos will shine… and to be honest, Shannon's tips are just as useful in making your home show ready!
In order for a home to look it's best to a potential buyer, some attention should be paid to how it will look in photographs.  Here are a few ideas to best prepare your home:
Clear away all clutter.  If you are serious about staging your home, all clutter must go, end of story.  It's not easy and it may even require utilizing offsite storage (or a nice relative's garage) temporarily, but it's well worth the trouble.  Clean and clear surfaces, floors, cupboards and closets equal more space in the eyes of potential buyers, so purge anything unnecessary or unsightly.
Strike a balance between clean and lived-in. Yes, I know I just said to get rid of all your clutter (and you deserve a big pat on the back if you did it), but now it's time to judiciously bring back a few elements that will really make your home appealing.  Think vases of cut flowers, a basket of fresh farmer's market produce on the kitchen counter or a bowl of lemons beside the sink.
Personal items.  Conventional wisdom says that all personal items should be removed from the house so the prospective buyer can envision themselves in the house.  Although this is true in most cases, removing too much also brings in a cold, un-lived in feeling.  There is a fine line but trying to keep a more "homey" feeling is better than a stark, cold feeling.
Bring in light.  Open all window treatments and make sure windows are clean.  Swap out heavier drapery for lighter weight fabrics.  For rooms that are too bright, use sheers that will diffuse light and cast a nice glow into the space.  Dark spaces bring the walls in while light spaces make it look bigger.
Cleaning.  It should go without saying but the house should be Q-tip clean.  Both inside and out.  Everyone knows -if it smells, it won't sell.
Vehicles.  Please remove all vehicles from the driveway and do not park in front of the house.
Exterior.  Remove garbage cans, hoses, rakes, and garden tools from view.  Mow and rake the yard.  Sweep walkways, patio, and the driveway.
Lighting.  Turn on all interior lighting, but please turn off all ceiling fans and TV's.
Bedrooms.  Make all beds and tidy all bedrooms.  Make sure all clothes are hung up, or put out of site.
Trash.  Tuck all indoor trash cans out of sight or in a cupboard for the shoot.
Special.  Let me know if you have any special features of the house that are not obvious so I can include them in the photos.
Valuables.  Let me know if your home contains any valuable works of art.  I can edit photos to make these items unrecognizable.