Inspired by beer and the Holiday Season, I've decided to go out on a limb and report on some of Bend, Oregon's best winter seasonal and Holiday beers.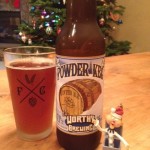 While most of the brews will be from breweries within Bend, there will be a couple from Redmond and Sisters, nearby Central Oregon towns.  Some of the beers are available in bottles and distributed regionally, even nationally, (yes, you can probably guess which award winning beer that is.)  And yet, several of the seasonal ales are only available on tap at their respective breweries.  If you're hoping to hear about the notes of clove and piney resin, I'm not your huckleberry – but I will tell you what I think, where you can find these samplings and anything else that pops in my head while sipping said suds.  Join me for the winter sleigh ride of local brews and join in the conversation on twitter using #12BendBeersOfChristmas.  –Cheers!
Beer 1 – As you can see, Powder Keg by Worthy Brewing is my first!  I love Worthy Brewing, not just because they are hop ravin' mad, but also because their efforts to reduce their carbon footprint are quite Worthy, (couldn't help myself!)  Read about their green efforts here, which include one of the largest arrays of PV panels in Central Oregon!  Now let's get to the beer!  Powder Keg is a very hoppy amber ale coming in at 7.1% ABV.  It has more than enough bitterness to keep the hop heads pleased.  It also has a slight spiciness to it that made me crave chestnuts.  In fact, while drinking it, I wanted to be sitting outside by the fire pit roasting chestnuts rather than cleaning the kitchen which is what I was really doing. Glamorous, I know.  Powder Keg is available in bottles throughout Bend and at the brewery located just east of 27th St on Highway 20.